Classic Pool Series
THANK YOU FOR CONSIDERING ARTESIAN POOLS AND SPAS TO BE YOUR RESIDENTIAL POOL BUILDER.
CLASSIC POOL SERIES:
---
DEPTH: 3' - 6' or 3' - 5' - 4'
SIZE: Up to 80 Perimeter Ft./360 sq. Ft. Surface Area
INCLUDED
---
A. Pre-Construction:
1. Engineered Plans
2. Building Permits
3. Liability and Property Damage Insurance during construction.
B. Layout and Excavation:
1. Layout of pool in yard as per approved City or County plans.
2. Normal access to dig with backhoe and dump truck.
3. Normal excavation.
4. Normal soil removal with dump truck (any other additional).
C. Construction:
1. Shot crete pool shell with 8"-10" thick walls.
2. Steel reinforcing with 12" and 6" centers.
3. Two coats of white marble plaster.
4. Three custom steps in shallow end of pool.
5. One row of standard ceramic tile around perimeter of pool.
6. Three feet of deck around perimeter of pool.
7. Complete clean up of construction debris on job site.
D. Plumbing:
1. 48 DE Filter / or Cartridge Filter
2. Variable speed pump.
3. Three directional inlet fittings.
4. One surface skimmer at deep end of pool.
5. Main drain.
6. Aerator.
7. Schedule 40 PVC for all plumbing lines and fittings.
E. Electrical:
1. Up to 50 ft. of electrical run.
2. Bonding as per code. Not including pool fencing.
3. Junction box per code.
4. Microbrite light.
F. Start-Up:
1. Initial stabilization of water.
2. Start-up / maintenance instruction to owner.
NOT INCLUDED
---
A. Items not included:
1. Gate code requirements: 5' height requirement, spring loaded, concrete. Stripping at base of gate and self-latching mechanism.
2. Door alarms for ALL doors leading to pool.
3. Water supply to fill pool.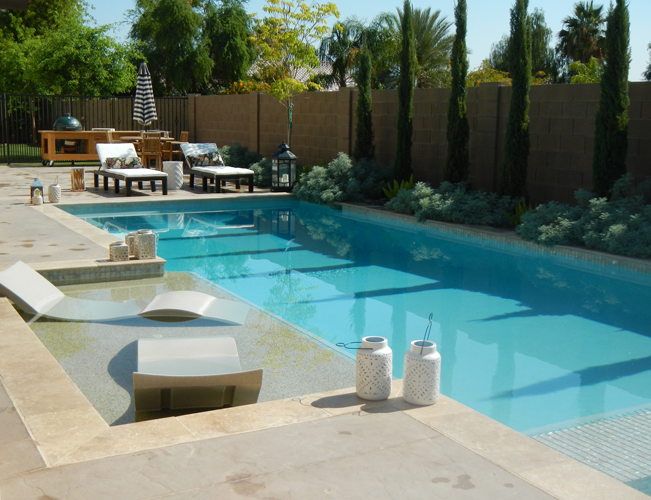 ADDITIONAL OPTIONS AVAILABLE
---
Pebble Finish Plaster
Colored Plaster
Custom Tile and Mosaics
Vanishing Edges
Variety of Rails/Slides/Boards
Fountains
Colored Decking
Remote Pool Controls
Fencing
Gazebos/Shade Structures
Barbecue Islands
Salt Generators
Pool Covers
Fog Machines
Leaf Trappers
Automated Colored Lights
Fiber-Optic Lighting
Fire Pits
Waterfalls
Custom Stamped Concrete
Pavers
Diving Pools